Pictures of SC Santa "on location" with some smiling children!

(click image to enlarge)
Types of Visits (30 Minutes or All Day...Local or Long Distance...Santa is Ready)
THE CHRISTMAS PARTY:
The classic visit...Santa will come to your home, workplace, or off-site location to share in the festivities with family, friends, neighbors, and co-workers. A single family visit might last 30 minutes while a neighborhood bash or full blown office party might need two hours or more. Santa will be happy to sit with children and adults alike to review their Christmas lists, see who's been 'naughty or nice' and pose for lots of individual and group photos. If you like, Santa can bring some stories to read, hand out a few early presents, or even judge the tacky sweater contest. Whatever your plans, this is a perfect opportunity to add Santa to your holiday event!
COST: $80 for visit up to 30 minutes
$120 for visit up to 45 minutes
$150 for visit up to one hour ($50 each additional half-hour)
(Above Rates Do Not Apply To Thanksgiving Weekend or Christmas Eve)
THE DROP-IN PHOTO OP:
As lines for holiday pictures at the mall get longer, the option of having a professional Santa at your location for a drop-in photo opportunity is becoming more popular. Retail and restaurant locations are scheduling Santa on site for their customers to take their own pictures. Apartment complexes and neighborhood associates schedule holiday activities at their clubhouse where residents and guests can drop-in to meet the 'Big Guy'. Holiday markets include a Santa on set for quick visits and festive photo opportunities. Corporate locations provide Santa and a photographer on site for their employees' families. (And don't forget pet photos and fundraising opportunities!)
COST: $150 for the first hour...$50 each additional half-hour...(Photographer NOT included)
One hour minimum. Above Rate Does Not Apply To Thanksgiving Weekend or Christmas Eve.
THE SPECIALTY VISIT:
These include parades, tree-lighting ceremonies, holiday advertising (print or video), stage and television appearances, pre-season visits, extended visits, and appearances on Christmas Eve and during Thanksgiving week. Session length varies depending on need. Santa has years of experience on stage, photo shoots, television, and for public appearances. His trained voice is equally suited for calming a nervous child or addressing a large audience.
COST: Varies depending on type and length of visit. CONTACT Santa for visit details and pricing.
CHRISTMAS EVE "Discovery Visit":
As the name suggests, this visit is scheduled for Christmas Eve. The children awaken during the night and "accidentally" discover Santa in the house placing presents under the tree...filling stockings...or enjoying a quick milk and cookie break. Will Santa spot the children from their hiding place? Will he have time for a quick hug...or maybe a picture...or even a quick tuck back into bed? You and Santa will answer these questions in advance, as this
completely customized visit is destined to become a family Christmas memory that will last a life time.


COST: $125 (and up) depending on availability, location, and prep.

NOTE: Prices for all visits include travel within a 25-mile radius of Columbia, SC. Additional fees for round-trip mileage and RT travel time may apply for locations outside this area.
Don't see a visit that is right for you? Santa can help you customize a package that is perfect for your holiday event and budget!

Ask About having Mrs. Claus Join in the Festivities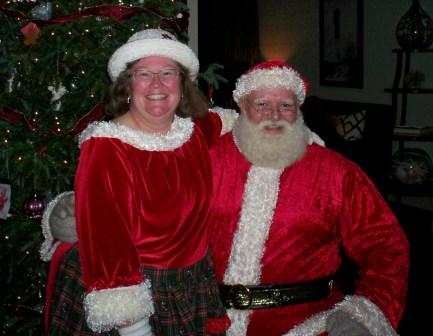 © Images and text displayed on this site are protected by copyright. Reproducing, submitting, or re-publishing page contents in whole or in part in any format without advanced permission is prohibited.